Eyebrow Lamination
Brow lamination process is where a vegan friendly perm creates shiny, smooth and fuller looking brows. Brow shaping & optional brow tinting included. Lasts 6-8 weeks. – $70 45 minutes
THE REMEDY TO LONGER, RICHER, MORE DEFINED BROWS

The latest "it" craze in aesthetics offers the chance to get the brows of your fantasies without the cost of microblading. Eyebrow lamination, additionally called brow sculpt or brow lift, is basically a perm for your brows without the rough chemicals.

This gentle service is fashioned to add volume as well as fullness, smooth dimension, re-create your brow shape including extending the thickness and also designing an extra-defined arch. It will cover thin spots and also add texture to your brow hairs.

Where it varies from microblading and tinting is that no pigment is included in your service. Instead, your hairs are coaxed into place to look fluffier and a lot more defined, and also have a slicked-up, glossy appearance– this is where the term lamination originates from. The end result is super smooth brows that seem like you have brow gel on them.

Yet that's not all, a lash lift actually helps open up the eyes, making you look bright-eyed as well as sharp. The lifted result additionally highlights the complete length of every specific lash, making them look quickly much longer.

Combining a brow tint with your lamination service will darken the color of your eyebrows and also add intensity. Brow lamination can last anywhere from 6-8 weeks depending on exactly how quickly your brow hair grows, as well as its consistency, the treatment is not permanent.

Eyebrow Lamination Is Like A Perm For Your Eyebrows.

Eyebrow lamination is essentially a perm that provides approximately 8 weeks of added volume, fullness, and also definition without the extreme chemicals. This treatment partners with a keratin formula to generate volume. In the same way a hairstylist would set your hair around different size barrels and also coat it with a perming solution to lock in the form, a brow professional sets your lashes after that paints the eyebrow hairs with a lifting formula.

Every brow treatment begins with a consultation to determine what eyebrow style and desired shape you're looking to achieve. The shape is totally personalized and based upon your answers, your esthetician will create a bespoke design.

At Eugenia Garnes, the acclaimed esthetician and makeup artist, is distinguished as being the top talent in the field of skin and make-up. The expert will help you in crafting a look that is tailored to you, one which will certainly compliment your attributes, enhance your natural appeal, as well as accentuate your internal confidence. Eugenia is trained to match your way of life and also can aid you in crafting appearances you fit with and are also able to recreate on your own. Come see her for eyebrow lamination Columbus, Ohio!

Check out her work on Instagram!
Brow Shaping & Tint
Get your brows perfected and get rid of unwanted hair! Detailed shaping with plant based tint. Lasts 3-4 weeks. $27 45 minutes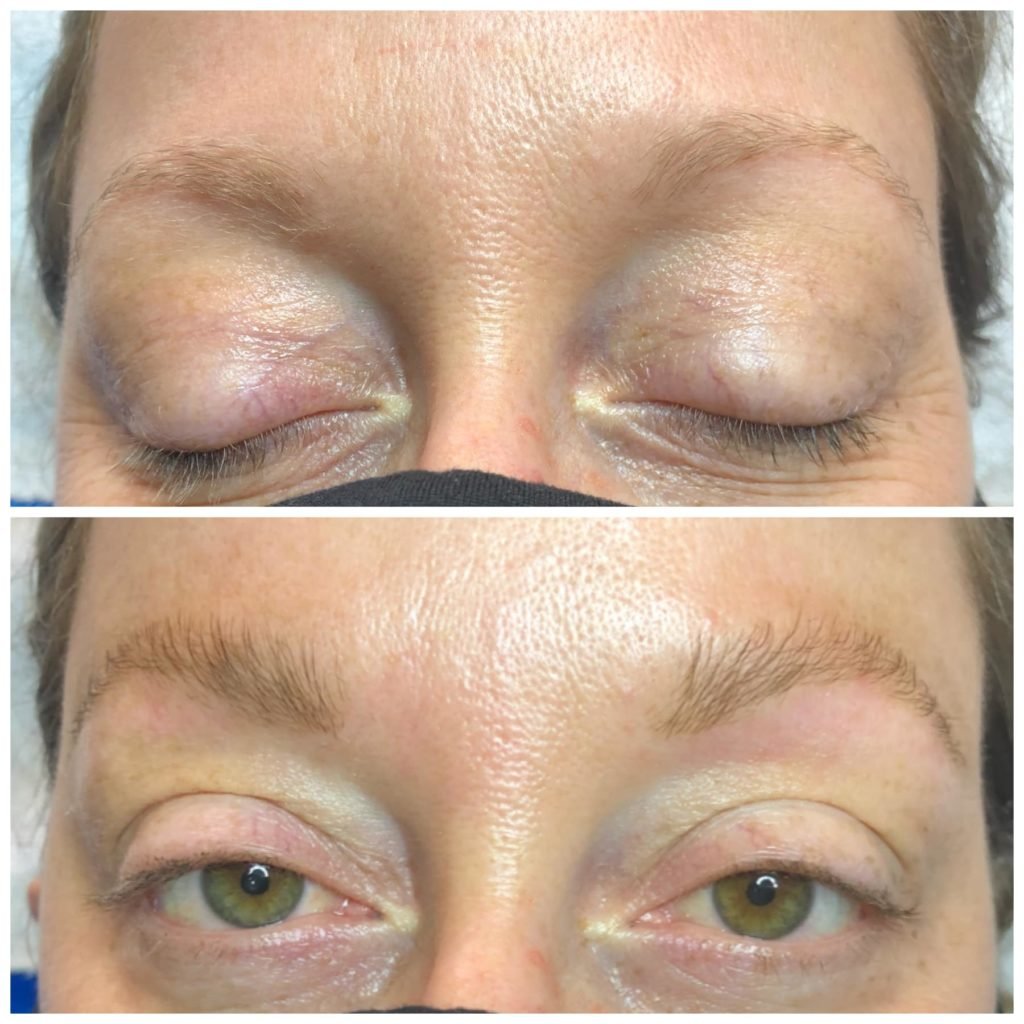 Brow Shaping & Lip Wax
Detailed brow shaping with upper and lower lip wax. 30 minutes $30
Eyebrows are often considered one of the most important features of the face. Well-groomed eyebrows can help to accentuate the eyes and give the face a well-defined shape. Bushy, unkempt eyebrows can make the face look heavy and detract from the overall appearance. The right eyebrow shape can also help to balance out the features of the face and your bone structure. For example, if you have a round face, then arched eyebrows can help to give the face a more oval-shaped appearance. Conversely, if you have an oval-shaped face, then straight eyebrows can help to give the face a more square-shaped appearance. Whether you're looking to achieve a particular look or simply want to enhance your natural features, groomed eyebrows are always a good choice.
Eyebrow Shaping Near Me
Eyebrow shaping is an important part of any beauty regimen. It can be daunting to find the right expert to do it for you, but with a little research and preparation, finding someone near you who offers eyebrow shaping services can be easy!
Here's what you need to know about choosing an eyebrow shaper near you – from evaluating their skill level and portfolio to deciding which style works best for your face shape.
At the end of the day, when it comes to getting a beautiful brow shape that is perfect for your features, there's no substitute for professional advice. A qualified eyebrow shaper will provide personalized recommendations based on their experience as well as knowledge of current trends in order to help you achieve exactly the look you want.
I'll provide all the information necessary so that you're empowered to make an informed decision about where to get your eyebrows shaped!
Why See Eugenia Garnes For Eyebrow Shaping
As a certified eyebrow shaping expert, I understand the importance of having perfectly shaped brows. With my expertise in eyebrow shaping near me, you can rest assured that I will be able to help you reach your brow goals.
When it comes to achieving perfect brows, I specialize in using both waxing and tweezing hair removal techniques as well as applying makeup with a professional brow pencil.
Having worked with people from all walks of life, my goal is always to provide each client with their desired results while still keeping safety at the forefront of every session. Whether you're looking for an arch enhancement or simply want to maintain your current shape, I take great pride in offering personalized services catered specifically to individual needs.
I believe everyone should have access to quality beauty services regardless of budget, location, or special occassion. That is why I am committed to providing affordable eyebrow shaping so that anyone wanting beautiful eyebrows can get them easily and conveniently near me.
Conclusion
I am the perfect person to help you with your eyebrow shaping needs.
As a professional beauty expert, I have years of experience in creating beautiful eyebrows that turn heads and enhance natural beauty.
My clients love their new look and can't stop talking about how great they feel after seeing me for the best eyebrow shaping session.
Whether you are looking for a subtle arch or something more dramatic, I will work with you to create stunning results that last.
From waxing services to tweezing techniques, my skill set allows me to provide precise brows tailored specifically to fit your unique facial features.
With my guidance, we'll be able to craft the perfect shape that suits both your individual style and face structure perfectly.
Visit Eugenia Garnes today for all of your eyebrow sculpting needs!
Eyebrows Waxing near me. Get your eyebrows waxed to prevent ingrown hair and unruly hairs