Skin Hydrating Facials & Relaxation Massage | Gahanna, Oh Esthetician & Skincare
Spa Services | Gahanna, Ohio Skin care
Have you been feeling blah? Eugenia Garnes, a licensed esthetician of 18 years, is an expert at helping her clients feel good from the inside out. You will leave her office feeling refreshed and looking radiant. Her professional spa suite is nestled inside of Goldiluxe Beauty Bar Salon inside of the Nationwide building across the street from the fountains on Mill St at Creekside Gahanna.
Body Ache Escape Massage Center

Eugenia's dermaplane facial and body treatments are such unique and luxurious services. She pours her heart into every appointment. It is obvious that she cares a great deal for her clients and wants them to feel good from the inside out. Every appointment I get a bonus life coaching session that fills my cup until the next time I see her. I absolutely love walking across the street to Creekside Gahanna and having lunch at one of the amazing patios by the fountain!

Eugenia was the best makeup artist a bride could ask for. She skillfully highlighted my natural features so that I felt beautiful in person and in photos. I felt glamorous and could still see my freckles! My husband was thrilled that I didn't look too made up or "fake," as he calls it. She also beautified all six of my bridesmaids and several commented that it was their favorite wedding makeup. She brought festive wedding tunes and a relaxed demeanor that was absolutely perfect to calm the wedding morning nerves. An honest 5 stars, 10/10 will recommend to my friends.
Your First Appointment
Eugenia offers several types of esthetic services: body waxing, brow lamination services, dermaplaning treatments, facials, relaxation massage, makeup application and body treatments. Your first step is to decide which type of service you would like to schedule with her. You can find a full list of services here. Step 2 is to arrange your session by calling, texting or scheduling online! Step 3 is to come in for your scheduled service, relax and let Eugenia work her magic. She will help you achieve glowing, healthy skin!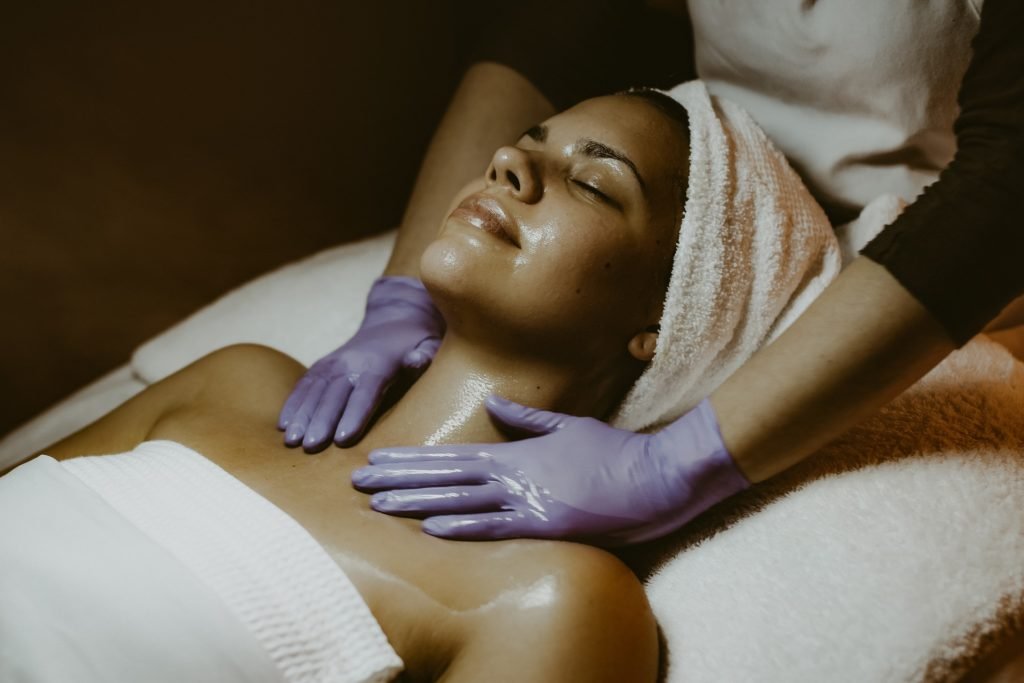 Facials in Gahanna | Professional Esthetics
104 Mill St
Suite E
Columbus, Ohio 43230
Skin Care Facial Services
Eugenia Garnes near New Albany, Ohio offers the best salon services around, with customized facials, massages, spa services, makeup, skin care, and more. You can make an appointment online. At Eugenia Garnes, she focuses on self-care and provides a wonderfully relaxing experience. She offers amazing packages and gifting options, and you can even receive a fabulous first facial. She is a knowledgeable esthetician and experienced in performing a variety of services and treatments, including facials, dermaplaning, tinting, waxing, and more. She uses a combination of light and bright masks to nourish and achieve desired results. She is friendly and helpful, and her prices are very reasonable. Customers can even navigate to her website for updates, changes, and more. Eugenia Garnes is proud to serve Columbus and the surrounding areas, and she strives to make everyone feel welcome and relaxed. Go see Eugenia Garnes at her skin care center and give yourself the gift of self-care!
Welcome to Goldiluxe hair salon, where we specialize in solutions to improve your wellness and appearance. During your consultation, our staff will determine your skin tone and wrinkle concerns to find the most effective solution for you. We offer advanced medical aesthetics, products, and technology such as chemical peels, lash extensions, and skin peels to improve your skin. Our comfortable environment and knowledgeable staff make it easy to locate the perfect solution for your needs. Get your appointment today and see how our services can help you enhance your skin tone and reduce wrinkles.
Facials near me – acne treatments to remove dead skin cells to help acne prone skin